[vc_row][vc_column width="1/1″][vc_column_text]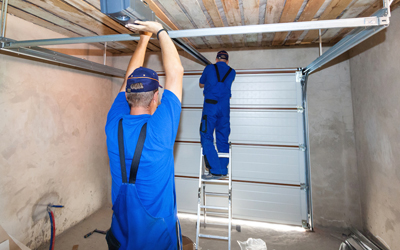 Are you still operating your overhead door manually? If yes, why not consider installing openers. In this era of technology, there are various ways in which you can automate a garage door. To enjoy safe and convenient door operating mechanism, you can either use a remote or wall switch. Openers are installed to ensure that you can open a garage door without applying any external force. This also prevents the risk of injuries like pinched fingers or toes.
With an opener, one can directly operate an overhead door using a remote. This not only offers convenience, but also saves time. Before opting to install an opener, one should be aware of different models available in the market for installation.
Some of the popular opener types are:
Screw driven: This category involves use of a typical screw for opening or closing a garage door. Whenever the opener motor is operated, the screw starts moving in a single direction. With this screw movement, the door is either opened or closed. Screw driven openers doesn't consist of a belt and therefore, are little noisy and affordable.
Chain driven: As the name suggests, this opener category consists of a steel chain that is triggered by a motor. Since they operate using a chain, these openers are often very noisy compared to other categories. The cause of this loud noise is due to the rustling of chains that is used to pull or push the door. They are generally heavy and suffers more wear and tear. If you are on a small budget, then chain driven garage door openers are ideal for you.
Belt driven: Belt driven openers work similar to chain driven ones. The only difference between them is that the belt openers consists of a strong belt compared to a chain. This makes them quieter and more efficient. If you need automatic garage doors with silent operating mechanism, then opt for installing belt driven openers. They are quite expensive and require periodic maintenance to maintain their efficiency.
Before selecting a new opener for your garage door, its better to study pros and cons of each one to own a perfect opener. If you want a quiet opener with lesser price, go for screw driven openers. In case price is not an issue, then belt driven openers are the ideal choice. To know more about them, feel free to call us at Richmond Hill Garage Doors.
[/vc_column_text][/vc_column][/vc_row]