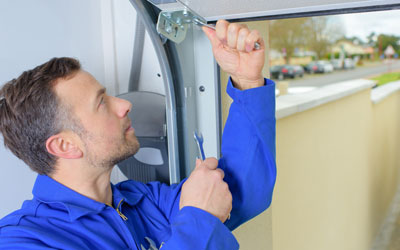 An overhead door is an important component that is installed not only to offer protection, but to improve the curb appeal and resale value of a property. It's not just a door, but a safeguarding agent that secures your vehicle and home against harsh weather and burglaries. Just like other elements, garage doors require lot of attention and maintenance to improve its performance. A garage door is manufactured using many small hardware parts that ask for constant repairs and replacements. To avoid expensive repairs, its advised to inspect and repair an overhead door annually.
Some of the benefits of regular garage door inspection and repair are:
Saves time: Most of the door components are prone to wear and tear over time that often leads to stuck or faulty garage opening. Though it might not seem a big deal, until a door stops operating completely. A slowly operating door may consume time in opening or closing. In contrast, a maintained overhead door will operate at a faster pace and won't consume much of time.
Saves money: Door inspection is comparatively cheaper than reapirs. By spending a few bucks on garage door maintenance, one can save thousands of dollars that may get spent in replacements. Regular garage door inspection can help in keeping a door in a proper and good working condition along with preventing the need for repairs or replacements.
Increases the door life: Though an overhead door is designed to work properly for years, reckless use can make it degrade within months of installation. To enjoy smoother door operations, its advised to offer professional inspection and maintenance service regularly.
Prevent emergencies: Emergencies related to garage door means door accidents that occur due to improper use and lack of maintennace. Whenever a door suddenly stops working or denies to open, don't opt for DIY repairs. Call in professionals to get the issue fixed in a better way.
Since a residential garage door is the largest moving part in your home, it is very important to maintian it. Don't risk yours and other safety by working with a damaged door. For overhead door repairs, talk with our experts today.