[vc_row][vc_column width="1/1″][vc_column_text]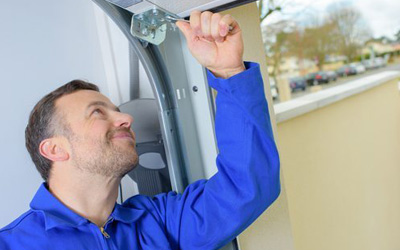 Repair you malfunctioning overhead door on your own, it may looking a very simple task, but it is not. It is really a dangerous one. Small repair and maintenance tasks you can perform on your own, but some major repairs you cannot do, even if you are a DIY handy person. Many homeowners have a doubt that repairing a garage door is a very easy job. The truth is, an overhead door is a complex mechanism full of tangled parts that sometimes require a professional assistance.
Here are some reasons why do it yourself garage door repair is not a good idea. Have a look at them.
[/vc_column_text][vc_column_text]
A door has too many intricate parts: As you know, an overhead door is made of various intricate parts that require a professional attention. So, keep in mind one important thing that DIY door repair, maintenance and installation are not recommended. Do not try to attempt any task or fix the issue yourself if you don't have the right knowledge.
Broken spring can be dangerous: If you have a garage door for a number of years, some parts of it are simply going to wear out over the time. Handling a broken spring is an extremely dangerous task. Torsion springs help the door to open and close and it works under a lot of pressure. That's why experienced technicians are required to handle this problem.
Risk of damage: You may hear about the countless tales of do it yourself repairs gone wrong. After hearing all these, if you are going to repair your malfunctioning door on your own, you can do more harm than good. A professional will extremely address the issue and keep the door happy and running smoothly.
Chance of injury: Every year, hundreds of people gets injured while they are performing DIY tasks. If you try to handle a damaged or broken overhead door without the help of another person, you may injure by falling the door.
Poor garage door function: After fixing the problem, the door may not operate as well as you would like it to. Just suppose, you are going for an important meeting, your garage door won't open and your car is trapped inside. It will make you upset. It is best to hire a professional at the first sign of trouble.
[/vc_column_text][vc_column_text]
Your garage door is a complex and dangerous mechanism, so don't take it lightly. When you see any sign of damage or any other kind of issue, it is ideal to call a garage door repair professional in Richmond Hill.
[/vc_column_text][/vc_column][/vc_row]