[vc_row][vc_column width="1/1″][vc_column_text]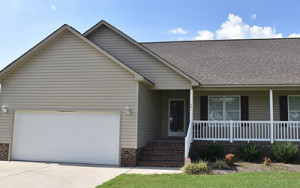 When was the last time you looked at the outside of the garage door and your house closely? How does your house and overhead door look from the street? Does it need new paint or renovation? If your answer is yes, it is a matter that you need taken into consideration.
The garage door contributes to the overall appearance of your residential and commercial property. With the various designs, models and colors, you can choose a garage door that you want. If your budget does not allow you to buy a new door for your garage, you can revamp your old door. For safety and security, it is highly recommended that you hire a garage door professional for this task. Remodeling the door can be an easy task, but without proper knowledge you cannot do it. Don't ruin your house's value with old door, think about something new.
[/vc_column_text][vc_column_text]
Install glass type door: As you know, there are different types of doors available in the market including wood, steel. Aluminum, fiber, glass, and vinyl. Ten years or more than ten years old doors are quite medieval. Replacing the old door with a glass type new door. It provides a fresh new and modern look to your garage and house.
Repaint the door: If you don't have enough budget to replace the old door with a new one, you can paint it. Choose a beautiful color that will complement your curb design. Before choosing the color, make sure you use that one which is matched with your house's exterior paint.
Remodel your old wooden door: Wooden doors are known to be given a traditional and aesthetic look to your house. If you don't want to change the old wooden door with another material, it is time to think about how to add curb appeal with an old wooden door. Use gel stain to refurbish the old door. It is one of the best ways to give a strong wood color without having to spend much.
Light up your driveway: If you really want to enhance the curb appeal of your house, don't forget about the driveway that is located in front of your garage. Mounted some outdoor bulbs to your overhead door and driveway. Look for the lighting that will complement the style of your house and color tone.
Add details to a blank door: Without designing doors are very common and it symbolizes the simplicity. But plain doors will not help to enhance the curb appeal. Add vertical paneling and windows to your plain garage door. If you are a good painter, you can draw a couple of lines and art on the door.
[/vc_column_text][vc_column_text]
These are the some important garage door tips that help you to enhance the value of your property. Now, you are familiar with them and you can follow these tips. If you want to know more about it, you can make a call to Richmond Hill Garage Doors.
[/vc_column_text][/vc_column][/vc_row]